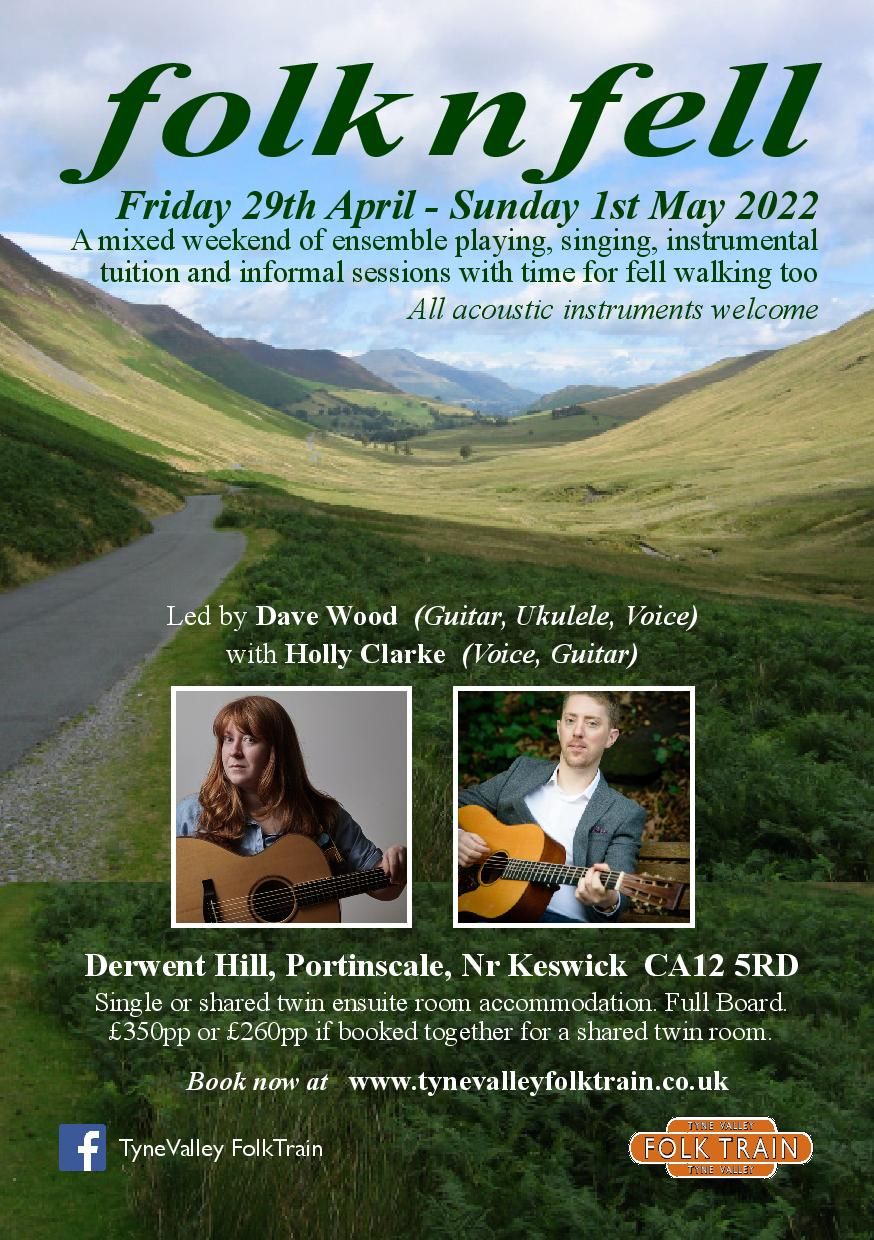 Friday 29th April - Sunday 1st May 2022
Derwent Hill, Portinscale, Nr Keswick, CA12 5RD.
Two outstanding folk musicians lead a unique weekend of folk music, song and banter with time for walking.
A mixed weekend of ensemble playing, singing, instrumental tuition and informal sessions with time for fell walking too. It all takes place at the Derwent Hill Centre, near Keswick in the beautiful Lake District. It's a great way to enjoy yourself, learn some new material and meet new friends.
It begins late afternoon/early evening Friday, finishing Sunday around 5pm. Tutors: Dave Wood, who can provide tuition in Guitar, Ukulele and Voice with celebrated Cumbrian folk singer Holly Clarke, Voice and Guitar. An intimate event with around 20 participants. A mixture of classes, performance and steady sessions. The two classes will be in mixed ensembles each doing something different with both tutors including voices as well as mixed instruments. Don't worry if you can't sing well because there will be plenty of playing. Likewise, there will be good opportunities for singers to shine. We welcome a wide range of acoustic instruments.
All on site rooms are now taken. We can accommodate a very small number of participants who arrange and pay for their own bed and breakfast accommodation - there are several in Portinscale. Tuition, lunch, dinner, snacks and daytime/evening attendance are included. £260pp.
Please note that onsite camping or camper vans are not permitted under the terms of our booking.
Two great tutors:
Holly Clarke voice and guitar;
Dave Wood; voice, guitar and ukulele;
Holly Clarke is a musician and singer who performs with an infectious energy and passion for traditional song. A powerful voice that carries and connects the traditions and tales of our times. Holly is a singer from the Lake District who is steeped in the tradition of ballad singing, is a singer who explores these old songs and finds new ways to perform their unique narratives. For the past four years Holly has played in her band Holly and the Reivers, with whom she supported the legendary Billy Bragg at Folk on the Tyne Festival 2019. From 2019 to 2020 Holly was Sage Gateshead's Artist in Residence specialising in Traditional Folk song and Ballad.
From Grindleford in Derbyshire, Dave Wood is regarded as one of the leading guitarists on the folk scene today due to his innovative, rhythmical accompaniment style. A graduate of the Folk Music Degree course at Newcastle University, Dave played for several years with acclaimed young band CrossCurrent before touring extensively with Scots song band Malinky from 2007 until 2011.
These days, Dave works as Learning & Participation Manager for The Globe, Newcastle upon Tyne - a multi-genre live music and learning venue.
The Derwent Hill Centre offers single occupancy or double occupancy (twin) rooms. Double occupancy participants must book their room together. Full board is included in our price. The fare at Derwent Hill is excellent.