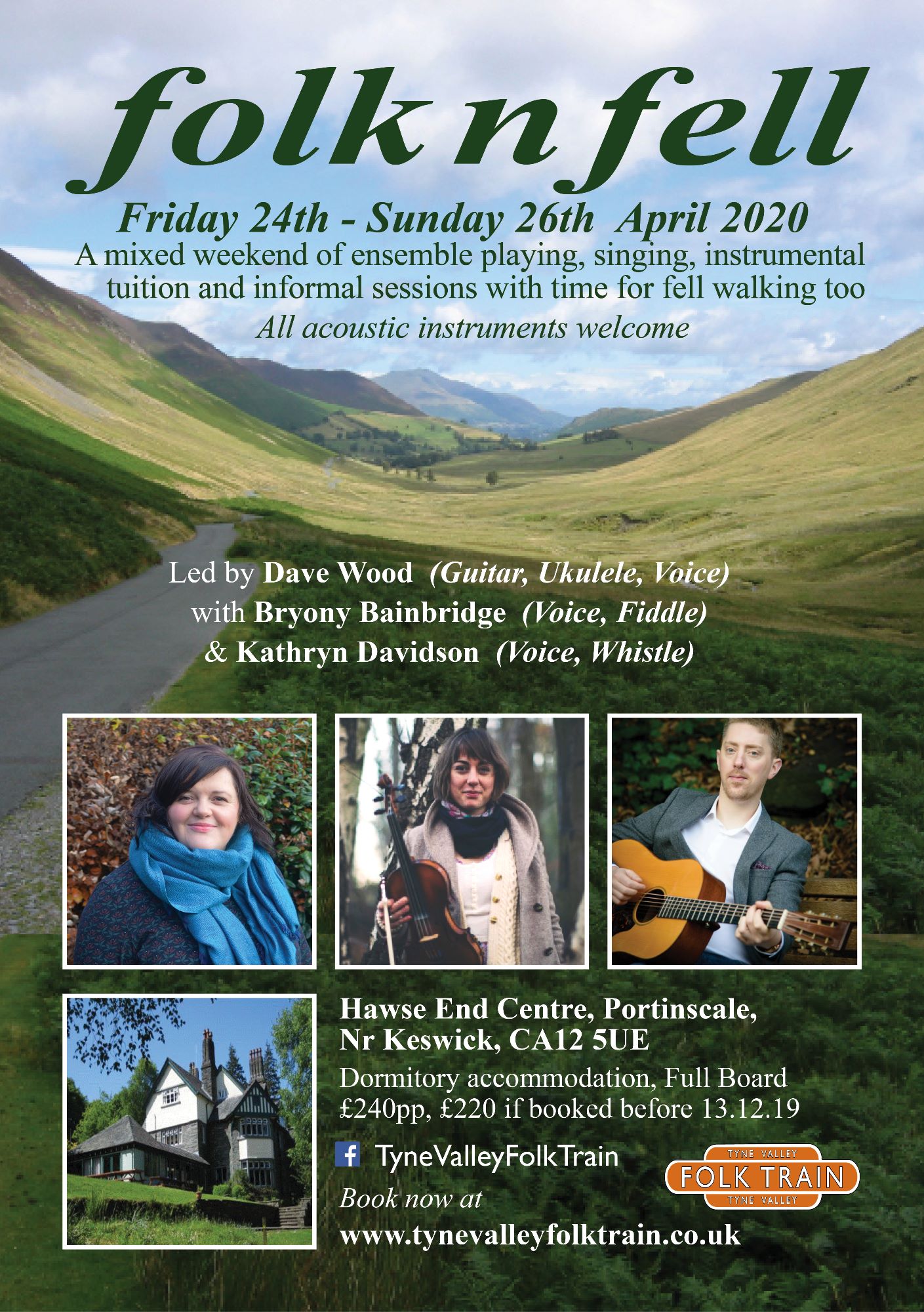 Friday 24th-Sunday 26th April 2020
Hawse End Centre, Portinscale, Nr Keswick, CA12 5UE.
Three outstanding folk musicians lead a unique weekend of folk music, song and banter with time for walking.
It begins late afternoon/early evening Friday, finishing Sunday around 5pm. Tutors: Dave Wood, who can provide tuition in Guitar, Ukulele and Voice with Bryony Bainbridge, Voice, Fiddle; and Kathryn Davidson, Voice, Whistle. An intimate event with up to 36 participants. A mixture of classes, performance and steady sessions. Classes in mixed ensembles each doing something different with each tutor including voices as well as mixed instruments. Don't worry if you can't sing well because there will be plenty of playing. Likewise, there will be good opportunities for singers to shine. We welcome a wide range of instruments.
A mixed weekend of ensemble playing, singing, instrumental tuition and informal sessions with time for fell walking too. It all takes place at the Hawse End Centre, near Keswick in the beautiful Lake District. We usually arrive Friday afternoon and depart Sunday around 5pm. It's a great way to enjoy yourself, learn some new material and meet new friends.
£240pp
Unfortunately fnf 2020 has now sold out
Three great tutors:
Bryony Bainbridge; voice and fiddle;
Kathryn Davidson; voice and whistle;
Dave Wood; voice, guitar and ukulele;
Bryony Bainbridge is a folk musician based in Newcastle with a love of dark and earthy songs and tunes from the UK and Scandinavia. Recently she has been touring extensively with the "Matfen Trio" as well as working with the charitable music organisation Live Music Now.
Kathryn Davidson is a choir leader and folk musician whose work has taken her to Brazil, around Europe, and back again to her native Northumberland. After a decade working for Sage Gateshead she is now a freelance musician working with around 500 people a week from aged 5-96! Her workshops will always involve at least a bit of vocal harmony and lots of fun and laughter.
From Grindleford in Derbyshire, Dave Wood is regarded as one of the leading guitarists on the folk scene today due to his innovative, rhythmical accompaniment style. A graduate of the Folk Music Degree course at Newcastle University, Dave played for several years with acclaimed young band CrossCurrent before touring extensively with Scots song band Malinky from 2007 until 2011.
These days, Dave works as Programme Leader for the Adult Programme at Sage Gateshead and as well as teaching Ukulele, Guitar and Band with Song.
The Hawes End Centre offers only dormitory accommodation in bunk beds. Full board is included in our price.
You may stay off site and benefit from a cheaper rate (Please e-mail [email protected] for more details), if you prefer. You must book you own accommodation and arrange travel. All meals will be provided apart from breakfast, which we assume you will receive at your accommodation.